You love your pet...and so will I!
The following are listings provided by All-Starr Pet Services. Please call the veterinarians for the latest information. Emergency Vet Clinics are in red. This form was updated 4/07/2018.
 
 
Carmel & Carmel Valley
Animal Hospital at Mid Valley-Dr. Anderson
312 Mid Valley Center Carmel, CA 93923
831-624-8509
Carmel Valley Veterinary Hospital-Dr. Holt
13738 Center St Carmel Valley, CA 93924
831-659-2286
Animal Hospital at the Crossroads-Dr. Bishop
3 Crossroads Blvd Carmel, CA 93923
831-624-0131
Carmel Holistic Veterinary Clinic
26135 Carmel Rancho Blvd #10
831-620-0115
Natural Veterinary Therapy-Dr. Annette Richmond
26135 Carmel Rancho Blvd Suite E-103
831-655-0501
Monterey & Del Rey Oaks
725 Foam St Monterey, CA 93940
831-373-0711
Aguajito Veterinary Hospital
1221 10th St Monterey, CA 93940
831-372-8151
Nichols Veterinary Care (formerly Parkview Vet Hospital)
571 E Franklin St Monterey, CA 93940
831-372-2672
481 Cortes St Monterey, CA 93940
831-655-2287
Pet Specialists of Monterey (open 24 hours)
451 Canyon Del Rey Blvd Del Rey Oaks, CA 93940
831-899-7387
Monterey Peninsula Veterinary Emergency and Specialty Center (open 24 hours)
20 Lower Ragsdale Dr #150 Monterey, CA 93940
831-373-7374
 
Pacific Veterinary Specialists
They are no longer located at 2 Harris Court in Monterey. 

The Emergency Service center is located in Capitola 831-476-0667.
Avian & Exotic Clinic (Next to Pet Specialists)
451 Canyon Del Rey Blvd Del Rey Oaks, CA 93940
831-647-1147
Marina
358 Reservation Rd Marina, CA 93933
831-384-6055
Pacific Grove
VCA Ocean View Animal Hospital
109 Central Ave Pacific Grove, CA 93950
831-649-4111
172 16th St Pacific Grove, CA 93950
831-372-3524
Peninsula Animal Hospital
1023 Austin Ave Pacific Grove, CA 93950
831-649-0415
Seaside & Sand City
Ord Military Community Veterinary Clinic
4380 Parker Flats Cut Off Rd Seaside, CA 93955
831-242-7718
Banfield Pet Hospital (located inside Petsmart)
2020 California Ave Sand City, CA 93955
831-392-0102
Mobile & Housecall Vets
PAWsitive Pet Mobile Vet-Dr. Danielle Hettler
831-233-0531
www.pawsitivepet.net
Sterling Veterinary Services-Dr. Magee
831-241-4383
www.sterlingvets.com
 
Overnight Sitting/Day-Care
Checklist
 
 Your Dog 
 Collar with up-to-date ID tag (your name, phone #, microchip #, and address are advised)
 Harness, Gentle Leader, or Halti
 Leash (Non-retractable, 4 or 6-foot leash)
 Food (it is advised that you provide a few extra days' worth of food in case your return is delayed. Michelle is happy to pick up food from your home or pet store should we run out)
 Treats (Michelle provides plenty of treats but if your dog has a dietary restriction please provide your own)
 Chewies (bully sticks, Nyla bones, Greenies, Himalayan yak chews, etc)
 Medications and/or supplements
 Bed, blanket, or crate
 Favorite toy(s)
 New Client Packet (filled out, signed, and dated). This is IMPORTANT!
 Any additional notes or instructions you think Michelle will need!
Michelle will provide the following:
 Dog beds and a comfy dog-friendly couch
 Stainless steel food bowls
 Fresh water
 Treats
 Poop bags
 Toys (balls, Kongs, rubber bones, tug toys, etc. Soft "stuffy" toys will not be provided as they tend to be destroyed quickly, aren't easily disinfected, and can cause blockages if they are ingested. If your dog has a favorite soft stuffy feel free to bring it along but please be aware Michelle cannot guarantee its survival)
 A 4 or 6-foot leash (if you only have a retractable style leash)
 Update texts/calls including pictures so you won't miss your dog(s) too much!
 Lots of love and attention!!!
 
1. Contact your local police department.
2. Look in your local newspaper under "found" animal ads.
3. Place a "LOST" ad in your local newspaper.
4. Check your local animal shelters. Visiting the shelter in person is better than calling. You know your animal better than anyone. Descriptions are not always sufficient for a stranger to recognize your animal. Check the shelter every 3 days for several weeks to insure that your animal is not euthanized in a shelter. Shelter employees can not be held responsible for calling to let you know an animal that fits your animal's description has shown up. They are very busy and see hundreds of animals everyday.
Monterey County Animal Services Center (receives animals found in unincorporated Monterey County and South County)
160 Hitchcock Rd., Salinas, CA 93908
(831)769-8850
Salinas Animal Shelter (receives animals found in the city of Salinas)
144 Hitchcock Rd., Salinas, CA 93901
(831)758-7285
Marina Animal Shelter (receives animals found in the city of Marina)
3040 Lake Drive, Marina, CA 93933
(831) 384-2528
SPCA of Monterey County (SPCA takes in strays from Monterey, Seaside, Ft Ord, DLI, Pacific Grove, Soledad, and Del Rey Oaks. They are open 365 days per year and will accept strays from other areas of the county when the other shelters are closed. It is always a good idea to check with the SPCA if you have lost a pet.)
Highway 68
Monterey-Salinas Highway
(831)373-2631
King City Veterinarian (receives animals found within King City limits)
890 South 1st Street, King City
(831) 385-4878
Santa Cruz Animal Services Authority (receives animals found within Santa Cruz County.)
(831) 454-7303
Has shelters in Scotts Valley and Watsonville.
5. Place "LOST" posters with a recent photo of your animal all over town. Use lots of BIG LETTERS and BIG NUMBERS
6. Check with the Emergency Vet Clinic. Animals that are injured on week-ends or evenings may end up in an emergency clinic. You may also contact other local vets in your vicinity to see if an unidentified injured animal was brought in.
7. Visit www.petfinder.org, a popular national website with a free classified ad section for posting lost and found animals.
8. Prevention: Help your animal find his/her way back to you in the future! Be sure your animal wears a collar and ID tag at all times with your phone number and address. Ask your vet about microchipping your animal (a tiny scannable chip injected under the skin encoded with your contact information), keep your animal inside the house or in a secure, fenced yard when you are not around.
Are you an animal lover? Do you love covering your walls with pictures of your pets? Then boy do I have the man for you!!! Kevin Hill is an animal lover and he sure can paint a pretty picture. I first met Kevin at Pet Food Express where he was displaying some of his artwork. I was AMAZED...no BLOWN AWAY at the quality of his work. He truly captures the essence of your pet in his painting. His protraits are so life-like it is easy to confuse the oil painting with a photograph. But upon close inspection you can see the dedication in his brush strokes and his selection of color. While at Pet Food Express, he was working on a protrait of two dogs. The canvas was blank when he arrived, but by the time he left later that day, one whole dog was done. The expression in the dogs eyes is what kept me gazing at the portrait. I could not wait to see the finished protrait. Trust me when I tell you that his portraits are ASTOUNDING and you must have one of your pet. For more information visit Kevin's website at www.painterkevin.com or like him on Facebook www.facebook.com/painterkevinscompanions?filter=2.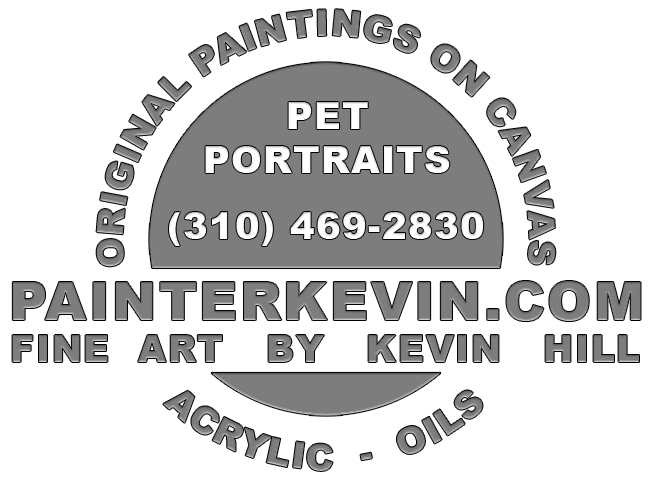 Here is the information from his website:
My name is Kevin Hill and I paint pet portraits!
"One of my favorite parts about my pet painting is the personal connection my work has for my clients. I try to accent the most defining details and get to the spirit of the animal I am painting."
I work from reference photographs to create real paintings on canvas. If you would like to have a pet painted by me contact me via email [email protected] or call me (310) 469-2830.
I work in several different size ranges but my standard size is a 16 X 20 inch canvas.
This beautiful painting is of Julep, Savannah and Beauregard-acrylic on canvas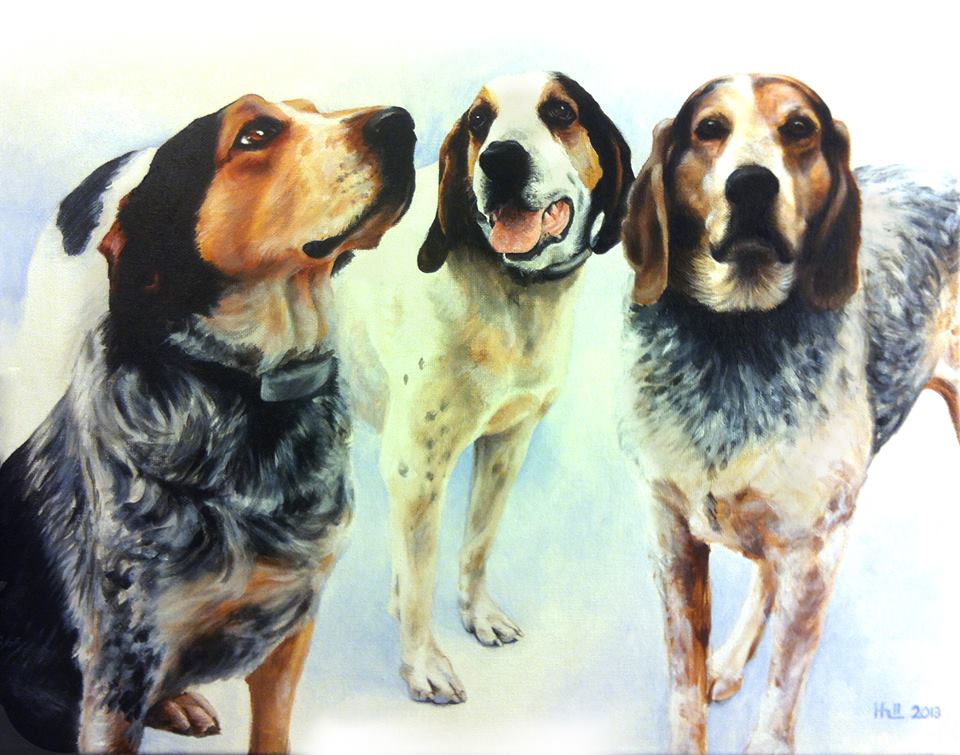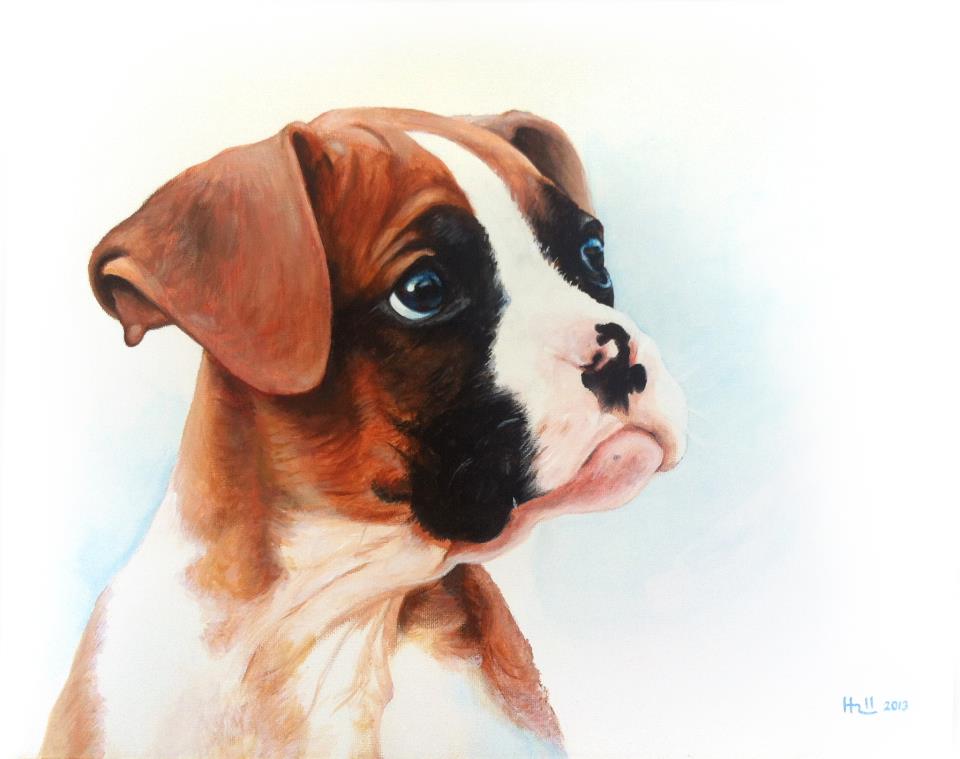 Lucy- acrylic on canvas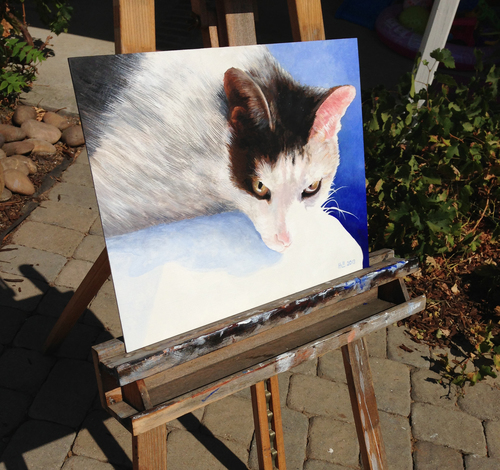 Kevin's cat-acrylic on canvas
I'm sure we have all heard chocolate is poisonous to dogs, but have you checked your house lately for other lesser-known hazards? And what about hazards for cats or smaller critters...Here is a list of common items to be aware of provided by the Humae Society of the United States.

Dangers just outside your door
Antifreeze that contains ethylene glycol has a sweet taste that attracts animals but is deadly if consumed in even small quantities; one teaspoon can kill a seven-pound cat. The HSUS recommends pet owners use a safe antifreeze in their vehicles. Look for antifreeze that contains propylene glycol, which is safe for animals if ingested in small amounts. Ethylene glycol can also be found in common household products like snow globes, so be sure to keep these things out the reach of animals.

Cocoa mulch contains ingredients that can be deadly to pets if ingested. The mulch, sold in garden supply stores, has a chocolate scent that is appetizing to some animals.

Chemicals used on lawns and gardens, such as fertilizer and plant food, can be easily accessible and fatal to a pet allowed in the yard unsupervised.

De-icing salts used to melt snow and ice are paw irritants that can be poisonous if licked off. Paws should be washed and dried as soon as the animal comes in from the snow. Other options include doggie boots with Velcro straps to protect Fido's feet, and making cats indoor pets.

Cans and garbage can pose a danger when cats or smaller dogs attempt to lick food from a disposed can, sometimes getting their head caught inside the can. To be sure this doesn't happen, squeeze the open end of the can closed before disposing.

Traps and poisons-Pest control companies frequently use glue traps, live traps and poisons to kill rodents. Even if you would never use such methods to eliminate rodents, your neighbor might. Dogs and cats can be poisoned if they eat a rodent who has been killed by poison (called secondary poisoning).
Threats inside the house
Cedar and other soft wood shavings, including pine, emit fumes that may be dangerous to small mammals like hamsters and gerbils.

Insect control products, such as the insecticides used in many over-the-counter flea and tick remedies, may be toxic to companion animals. Prescription flea and tick control products are much safer and more effective. Pet owners should never use any product without first consulting a veterinarian.

Human medications, such as pain killers (including aspirin, acetaminophen, and ibuprofen), cold medicines, anti-cancer drugs, anti-depressants, vitamins, and diet pills can all be toxic to animals. Keep medicine containers and tubes of ointments and creams away from pets who could chew through them, and be vigilant about finding and disposing of any dropped pills.

Poisonous household plants, including azalea, dieffenbachia (dumb cane), lilies, mistletoe, and philodendron. Poinsettias, mistletoe berries, and other popular holiday flowers can cause serious stomach upset for pets. Check with your veterinarian or local poison control center to find out what holiday plants and flowers you need to keep out of your pet's reach.

String, yarn, rubber bands, and even dental floss are easy to swallow and can cause intestinal blockages or strangulation.

Toys with movable parts—like squeaky toys or stuffed animals with plastic eyes—can pose a choking hazard to animals. Take the same precautions with pets as you would with a small child.

Rawhide dog chews can pose a possible intestinal blockage. This kind of treat should be offered to a pet only with supervision, as they can pose a choking hazard as well. It is recommended to find the proper chew for the size of dog. A rule of thumb: the length of the chew should be at least two times the width of the dog's mouth. A 5-lb chihuahua can handle a four inch chew, while a Labrador Retriever will need an eight inch chew or larger.

Holiday decorations and lights pose a risk to cats and dogs. Keep these items out of the reach of animals, and, if possible, confine your pet to an undecorated area while you are out of the home.

Chocolate is poisonous to dogs, cats, and ferrets.

Fumes from nonstick cooking surfaces and self-cleaning ovens can be deadly to birds. Always be cautious when using any pump or aerosol spray around birds.

Leftovers, such as chicken bones, might shatter and choke a cat or dog. Human foods to keep away from pets include onions and onion powder; alcoholic beverages; yeast dough; coffee grounds and beans; salt; macadamia nuts; tomato, potato, and rhubarb leaves and stems; avocados (toxic to birds, mice, rabbits, horses, cattle, and dairy goats); grapes; and anything with mold growing on it.


If all of your precautions fail, and you believe that your pet has been poisoned, contact your veterinarian or emergency veterinary service immediately. Signs of poisoning include listlessness, abdominal pain, vomiting, diarrhea, muscle tremors, lack of coordination, and fever.
You can also call the ASPCA Animal Poison Control Center hotline 24 hours a day, seven days a week at 888-426-4435 for a fee of $65 per case. If you call the hotline, be prepared to provide the name of the poison your animal was exposed to; the amount and how long ago; the species, breed, age, sex, and weight of your pet; and the symptoms your pet is displaying. You'll also be asked to provide your name, address, phone number, and credit card information.
Local lodgings that allow pets in Monterey County. 
The following list is provided by the SPCA for Monterey County. Please note the restrictions as listed by the hotel or motel management. All listed information is supplied by the business and a listing here does not imply endorsement or support by The SPCA for Monterey County.
Cities listed alaphbetically.

Big Sur

Riverside Campground and Cabins

Highway 1, 22 miles south of Carmel By The Sea

(831) 667-2414

www.riversidecampground.com

Services: 2 dogs per site or cabin. Fee of $20 per night per dog for cabins, $5 per night per dog for campsite.

Restrictions: All dogs must be on leash and attended at all times.

Carmel & Carmel Valley

Tradewinds Carmel

Mission and 3rd

Carmel, CA 93921

(831) 624-2776

www.carmeltradewindscarmel.com

Services: $25 per night per pet with 2 pet maximum per room except suites. Pet friendly dining guide and list of pet sitters available.

Restrictions: Pets must not be left unattended.

Adobe Inn

Dolores & 8th

Carmel, CA

(831) 624-3933

Blue Sky Lodge

Flight Road

PO Box 233

Carmel Valley, CA 93924

(831) 659-2256

www.blueskylodge.com

Restrictions: No more than 2 pets per visitor. May not be left unattended.

Briarwood Inn Carmel

San Carlos between 4th and 5th

Carmel, CA 93921

(831) 626-9056

www.briarwoodinncarmel.com

Services: 3 rooms available for one small pet. $25 per day.

Restrictions: Some breeds restricted. Call for more information.

Carmel Country Inn

Delores and Third

Carmel, CA 93921

(831) 625-3263

www.carmelcountryinn.com

Services: 6 pet friendly rooms. $20 fee per pet per night.

Carmel Fireplace Inn

San Carlos Between 4th and 5th

Carmel, CA 93921

(831) 624-4862

www.carmelfireplaceinn.com

Services: 4 rooms available. $25 per day per room.

Restrictions: Some breeds restricted. Call for details.

Carmel Garden Court

4th and Torres

Carmel, CA 93921

(831) 624-6926

www.carmelgardencourt.com

Services: $50 pet fee.

Restrictions: Pets may not be left unattended.

Carmel Mission Inn

Rio Road and Highway One

Carmel, CA 93923

(831) 624-1841

www.carmelmissioninn.com

Services: $35 pet fee. No limit for dogs or cats. Use of 41 ground floor rooms.

Carmel Resort Inn

Carpenter and Second Street

Carmel, CA 93921

(831) 624-3113

www.carmelresortinn.com/about_carmel.html

Carmel River Inn

26600 Oliver Road

Carmel, CA 93922

(831) 624-1575

www.carmelriverinn.com

Services: 24 cottages available for pets with $10 non-refundable fee.

Restrictions: Pets may not be left unattended.

Carmel Valley Lodge

8 Ford Road

Carmel Valley, CA 93924

(831) 659-2261

www.valleylodge.com

Services: Completely dog friendly. Additional charge of $10 per dog per night.

Restrictions: Please have crates for dogs to stay in. Must be on leash.

Casa de Carmel

Monte Verde and Ocean

Carmel, CA 93921

(831) 624-2429

Services: Pet friendly dining guide and list of sitters available. $20 one pet or $30 two pet fee per night.

Restrictions: Pets may not be left unattended.

Coachman's Inn

San Carlos and 7th

Carmel, CA 93921

(831) 624-6421

www.coachmansinn.com

Services: 7 rooms available on ground floor. $20 per pet per night.

Restrictions: Pets may not be left unattended.

Cypress Inn

Lincoln and 7th

Carmel, CA 93921

(831) 624-3871

www.cypress-inn.com

Services: Dogs, cats and caged birds welcome. Treats, beds and beach towels available for dogs. Dogs welcome at high tea. $25 a day for 1 pet; $40 a day for 2 pets; $55 a day for 3 pets.

Restrictions: Pets may not be left unattended. On-site pet sitter available.

Forest Lodge

Ocean and Torres

Carmel, CA 93921

(831) 624-7023

www.carmelforestlodge.com

Services: $20 per day for one dog; $30 per day for two dogs.

Restrictions: Signed waiver required. Contact manager to regarding cats.

Happy Landing Inn

3 NE of 6th on Monte Verde

Carmel, CA 93921

(831) 624-7917

www.carmelhappylanding.com

Services: All rooms are pet friendly

Restrictions: Pets must have current vaccinations and cannot be left unattended.

Hofsa's House

San Carlos and 4th

Carmel, CA 93921

(831) 624-2745

www.hofsashouse.com

Services: 10 pet friendly rooms. $20 per night fee. Additional pet $5.

Restrictions: Manager approval required for more than two pets.

Lamp Lighter Inn

Ocean and Camino Real

Carmel, CA 93921

(831) 624-7372

www.carmellamplighter.com

Services: $20 for one pet per night; $30 for two pets per night.

Lincoln Green Inn

Carmello between 15th and 16th

Carmel, CA

(831) 624-1880

Los Laureles Lodge

West Carmel Valley Road

Carmel Valley, CA

(831) 659-2233

Sunset House Bed, Breakfast and Classic

Camino Real between Ocean and 7th

Carmel, CA 93955

1 (877) 966-9100 (Toll free)

www.sunsethousecarmel.com

Services: Sunset House is a pet friendly bed and breakfast. Two of the four suites are perfect for human and canine guests.

Restrictions: Pets must be on a leash outdoors and cannot be left alone in the suites.

Svendsgaard's Inn

San Carlos & 4th

Carmel, CA

(831) 624-1511

http://www.bedandbreakfast.com/carmel-california.html

Vagabond's House Inn

4th and Delores

Carmel, CA 93921

(831) 624-7738

www.vagabondshouseinn.com

Services: $20 for one pet per night; $30 for two pets per night. Pet friendly dining guide and list of pet sitters available.

Restrictions: Pets must not be left unattended.

Wayside Inn

7th and Mission

Carmel, CA 93921

(831) 624-5336

www.innsbythesea.com

Restrictions: On leash on property. Pets may not be left unattended.

Monterey

Monterey Marriott

350 Calle Principal

Monterey, California 93940

(831) 649-4234

http://www.marriott.com/hotels/travel/mryca-monterey-marriott/

Bay Park Hotel

1425 Munras Avenue

Monterey, CA 93940

(831) 649-1020 or 1-(800) 338-3564

www.bayparkhotel.com

Services: Cookies, pet sheet and scoop-bag given upon arrival.

Restrictions: Please do not leave pet unattended. No pets allowed on the 3rd floor.

Best Western The Beach Resort

2600 Sand Dunes Dr

Monterey, CA 93940

(831) 394-3321

www.book.bestwestern.com

Services: Dogs of all sizes are allowed.

Restrictions: $25 per night additional pet fee. For oceanside rooms, the pet fee is $50 per night.

Casa Munras Hotel

700 Munras Ave

Monterey, CA 93940

(831) 375-2411

www.hotelcasamunras.com

El Adobe Inn

936 Munras Ave

Monterey, CA 93940

(831) 372-5409

Contact: Patrick Maloney

www.victorianinn.com

Restrictions: $10/day additional pet fee.

Mariposa Inn & Suites

1386 Munras Avenue

Monterey, CA 93940

(831) 649-1414

www.mariposamonterey.com

Services: Dog-friendly with pet area.

Restrictions: $40 per day per pet fee, pets must be leashed whole walking the grounds, pets cannot be left in room unattended.

Hyatt Regency Monterey

1 Old Golf Course Road

Monterey, CA 93940

(831) 372-1234

www.hyatt.com

Services: Dogs of all sizes are allowed.

Restrictions: $50 one time additional pet fee per room. Dogs must be crated when left alone in room and they must be leashed and cleaned up after when on grounds.

Motel 6

2124 North Fremont St

Monterey, CA 93940

(831) 646-8585

www.motel6.com

Restrictions: One well-behaved family pet per room. Guest must notify front desk upon arrival. Guest is liable for any damaged. In consideration of all guests, pets must never be left unattended in the guest rooms.

Monterey Fireside Lodge

1131 10th Street

Monterey, CA 93940

(831) 373-4172

Services: All rooms have gas fireplaces

Restrictions: Additional $20 per day pet charge.

Portola Hotel & Spa

Two Portola Plaza

Monterey, CA 93940

(831) 649-4511

www.portolahotel.com

Victorian Inn

487 Foam Street

Monterey, CA 93940

(831) 373-8000

Contact: Patrick Maloney

www.victorianinn.com

Services: "Pooch Package" – dogs are allowed based on availability. Logo dog bowl and treats are provided at check in.

Restrictions: $100 deposit; $35 is kept for cleaning fee.

Marina

Motel 6

100 Reservation Road

Marina, CA 93933

(831) 384-1000

www.Motel6.com

Restrictions: One well-behaved family pet per room. Guest must notify front desk upon arrival. Guest is liable for any damaged. In consideration of all guests, pets must never be left unattended in the guest rooms.

Pacific Grove

Andril Fireplace Cottages

569 Asilomar Blvd

Pacific Grove, CA 93950

(831) 375-0994

Services: Additional fee of $14 per day for a pet. Well-behaved dogs are allowed.

Bide-A-Wee Hotel

221 Asilomar Blvd

Pacific Grove, CA

(831) 372-2330

Deer Haven Inn and Suites

740 Crocker Ave

Pacific Grove, CA

(831) 373-7784

Lighthouse Lodges and Suites

1249 Lighthouse Ave

Pacific Grove, CA 93950

(831) 655-2111

Sea Breeze Inn and Cottages

1100 Lighthouse Ave

Pacific Grove, CA 93950

(800) 575-1805 or (831) 655-6325

Services: Pet friendly lodging. Pet fee of $25 on time non-refundable that covers the first three days of your stay. After three days, the fee is $5 per day, per pet.

Pebble Beach

Lodge at Pebble Beach

1700 Seventeen Mile Drive

Pebble Beach, CA 93953

(831) 624-3811

Services: Pets allowed in all guest rooms. Ceramic bowl and biscuits upon welcome. Additional biscuits available at concierge. Dog sitting available at $10 an hour for a minimum of 3 hours.

Restrictions: Pets allowed at Lodge only, not Spanish Bay or Spa. Not allowed in eating areas. No weight restrictions.

Salinas

Motel 6

140 Kern Street

Salinas, CA 93905

(831) 753-1711, (800) 466-8356

www.motel6.com

Restrictions: One well-behaved family pet per room. Guest must notify front desk upon arrival. Guest is liable for any damaged. In consideration of all guests, pets must never be left unattended in the guest rooms.

Motel 6

1257 De La Torre Boulevard

Salinas, CA 93905

(831) 757-3077, (800) 466-8356

www.motel6.com

Restrictions: One well-behaved family pet per room. Guest must notify front desk upon arrival. Guest is liable for any damaged. In consideration of all guests, pets must never be left unattended in the guest rooms.

Residence Inn by Marriott

17215 El Rancho Way

Salinas, CA 93907

(831) 775-0410

Restrictions: One time $75 fee and a pet polive to sign at check-in. Pets of all sizes are allowed.

King City

Courtesy Inn

831-385-4646

4 Broadway Circle, $10 per pet each night

Motel 6

831-385-5000

3 Broadway Circle

Silver Saddle Motel

831-385-3266

705 Broadway Street, $10 per pet

Soledad

Valley Harvest Inn

831-678-3833

1155 Front St, accepts pets up to 30 lbs, $10/day, $300 deposit

Paso Robles

Paso Robles Travelodge

805-238-0078

2701 Spring St, $10 per pet each night

Hampton Inn

805-226-9988

212 Alexa Court, accepts pets 25 lbs and under

La Quinta Inn & Suites

805-239-3004

2615 Buena Vista Drive

http://832.lq.com

Motel 6

805-239-9090

1134 Black Oak Drive

Atascadero

Motel 6

805-466-6701

9400 El Camino Real

Out of Area

San Luis Obispo

Best Western Royal Oak Hotel

214 Madonna Road

805-544-4410

Restrictions: $15/per pet for five nights

Days Inn San Luis Obispo

2050 Garfield St

805-549-9911

Restrictions: $10 per pet per night plus $50 deposit

Holiday Inn Express San Luis Obispo

1800 Monterey St

805-544-8600

Restrictions: $30 pet fee

Motel 6 San Luis Obispo South

1625 Calle Joaquin

805-541-6992

Motel 6 San Luis Obispo North

1433 Calle Joaquin

805-549-9595

Ramada San Luis Obispo

1000 Olive

805-544-2800, 1000 Olive

Restrictions: $10 per pet per night

Cambria

Cambria Pines Lodge

2905 Burton Dr

805-927-4200

Restrictions: $25 per night per pet

Cambria Shores Inn

6276 Moonstone Beach Dr

805-927-8644

Restrictions: No cats

Services: Discounts available for evacuees

Creekside Inn

2618 Main St.

805-927-4021

FogCatcher Inn

6400 Moonstone Beach Dr

805-927-1400

Restrictions: $25 per night

Mariner's Inn

6180 Moonstone Beach Dr

805-927-4624

Restrictions: $15 per pet per night

Sea Otter

6656 Moonstone Beach Dr.

805-927-5888

Restrictions: $25 per pet per night

San Simeon

Best Western Cavalier

9415 Hearst Dr.

805-927-4688

San Simeon Lodge

9520 Castillo Dr.

805-927-4601

Restrictions: $10 per pet per night

 

0

/